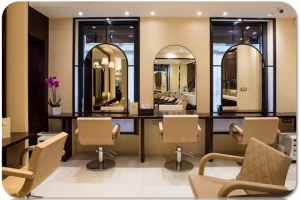 Although the economic crisis has affected direct or indirectly the diverse sectors of the Brazilian economy over these last years, if there is one sector that cannot complain about that is the beauty sector. Researches show that Brazilian women do not save money when it comes to appearance, regardless of social class. Even during a crisis, beauty professionals' schedules are always full.
On the other hand, we need to understand that, although very profitable and promising, this segment requires a good administrative and managing capacity to avoid failure in this business.
Researches point out that most beauty salons that close their doors do it due to bad administration of the business, lack of planning and management.
Important Tips to obtain Success:
Following some recommendations of specialists in management, it becomes possible to make a good planning and obtain excellent financial results in the beauty salon segment, but for that it is necessary that you like what you do and that you feel comfortable with this activity.
If you wish to have success, you have to act professionally; amateurism is not allowed in this business if you really want to grow.
Commitment is another important piece of the puzzle to obtain success in your salon. You must meet business hours like any other business activity. You cannot open the doors when you feel better and close them whenever you want. It is fundamental to have discipline to conquer trust and respect from your clients.
You have to have at least a basic knowledge regarding the legislation related to this activity as well as to staff hiring, team management, financial management and client relationship.
One of the bigger difficulties found especially for who will open his/her first beauty salon is related to renting the property. It is essential to consider a location of easy access to the customers; preferably offering a parking space destined to customers and with other businesses around, this will help you a lot to make your salon well known rapidly.
On the other hand, do not forget that you are just starting, this means that you do not have a customer base formed yet which can assure you a fixed monthly income, so in that case, it is more convenient that you search for a property in which the rental cost fits your budget considering your fixed expenses, without compromising other monthly expenses which you are going to have.
When it comes to material stock, a good management is essential to avoid waste or unnecessary investments. With the great demand for product offerings for the industry and the ease of purchasing these products, it does not make sense to have a large stock.
It is recommended that you have a lean stock in order to make the replenishment according to the demand. No less important is having all of your business expenses tightly controlled in order to avoid unpleasant surprises at the end of the month.
Basic Characteristics of an Attractive Salon:
In a simple and practical manner we will present to you a few characteristics that differentiate a common salon from an attractive salon where people like to be in:
Comfort and appearance: your salon has to be a space that conveys a sense of well-being, so do not neglect the comfort and appearance of the place, good lightning is also a key factor.
Receptivity: always have a cordial and spontaneous posture. Be kind and polite to your clients. A smile on your face can be your best business card.
Credibility and Trust: always offer quality services differentiated. Be transparent and honest with your clients.
Safety: your clients need to feel safe regarding the products that are being used, the techniques that are being applied, and above all, the hygiene of the environment, of the equipment and material used during the procedures.
Prices and Payment Conditions: practice prices that match the level of your target audience. Offer different conditions and options regarding payment in a way to make your customers' life easier.
Be always up to date: this is a trend market. Your clients will always want what is in fashion right now. In order to provide that you need to be always aware to not lose clientele and maintain your clients always satisfied.
Always surprise: take your client always beyond his/her initial expectations. This is a powerful way to create lasting relationships for your business.
Remember: Your clientele is your biggest asset:
The failure of most salons and other ventures that close the doors is the failure to look at seemingly simple factors that are fundamental to the success of any business.
To offer differentiated and innovative services compared to its competitors, to treat its clientele well, always seeking to satisfy its wishes and expectations and to have a highly qualified team not only in the technical matters, but especially in the service, can be the difference between success and failure.
All that your client seeks when leaving home to go to your establishment is to be treated well. A salon that practices these fundamentals certainly falls in the grace of the people and these same people end up spreading their work to friends and relatives, being able in this way to increase considerably their client's portfolio.
Captivate Your Clients:
Some seemingly simple yet effective actions can differentiate you from your competitors and make it a benchmark in the segment you work:
Send a little card on commemorative dates such as birthday, Christmas, New Year's Eve and alike.
Offer personalized gifts such as pens, note pads, calendars and alike
Promote a rotation of services with differentiated prices on commemorative dates.
Offer a courtesy service for those who purchase a certain "package" of services. In this case the ideal is to offer as a courtesy a service that your client has not yet used.
Promote the day of beauty. This can be done by means of a monthly draw to your most loyal customers at your service. She/he may gain a certain treatment or a kit of material.
Well … these are some of the simple but no less powerful tips that if taken seriously can make a huge difference in the results of your business.
We hope you enjoyed it.