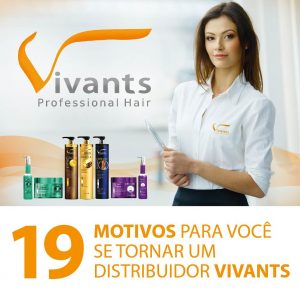 The sector of Professional Cosmetics mobilizes directly millions of beauty professionals. According to the Federation of Trading of Goods, Services and Tourism of the State of São Paulo, Brazilian families spend R$ 20,3 billion on hairdressing, manicure and pedicure services, and these expenses outweigh the expenses with regular courses of education, from the preschool to high school, which are 17,24 billion.
To meet all of this active demand, Vivants Hair Professional created a department of expansion with highly specialized New Business Consultants to assist the new Distributors of Professional Cosmetics who wish to enter in such a promising sector, in a competitive manner, which is planned and safe.
The Vivants Professional Hair Distribution consists in the commercialization of exclusive capillary products of high performance, focused on hairdressing professionals, following the company's marketing norms and fulfillment of duties.
The authorization to use the trademark, corporate identity and distribution of the products in a determined territory for their respective commercial activity is granted.
The company shapes and qualifies the new entrepreneurs through constant training, either at the spot or through online training platforms.
So if you are still in doubt if the professional cosmetic segment is still the best alternative to starting a promising, profitable business with high market demand, and if Vivants Professional Hair is indeed the best brand for you to start your business, we decided to list here at least 19 reasons why you should not have any more questions!
Premium line of products with high added value: All Vivants Professional Hair products guarantee you at least 100% real gain, with some products reaching 160% of real gain. Are you aware about any other business which is so profitable?
Team with highly capable market consultants who will advise each partner in an individual manner: every business, in order to be successful, needs good organization and an efficient strategic planning. Considering this, Vivants Professional Hair puts at your disposal a team of experienced professionals with expertise in business that will help you to take each step safely in your new business and at no cost to you.
Own manufacturing with exclusive formulations of high performance: the great advantage in acquiring products directly from the factory, without cross-traders is the possibility of increased earnings, ease in negotiations and better interaction between the parties involved.
Vivants Professional Hair Planning and Research: having the certainty of negotiating high quality products, tested and approved by the most demanding supervisory bodies and of this combined to high investments in Planning and Research by the company, is your guarantee of total satisfaction of the end customer reflecting in an excellent business.
Vivants Professional Hair Packaging with exclusive and customized molds: it's not even necessary to say that people buy with their eyes at first. Considering this, Vivants Professional Hair puts a lot of effort in customizing its packages, using modern traits that combine art and design, proposing a package of high visual impact which greatly facilitates the sales process.
Vivants Professional Hair Loyalty Program: with have a model of exclusivity for working in a certain area for our distributors that present above average results and commitment to the brand. Therefore, you will have the assurance that, once you create your client portfolio, no one else will work in your area.
Brand with high engagement in social networks: Vivants Professional Hair has an exclusive department of social media whose main objective is to strengthen the brand of the company and products through social media.
Authorization of the commercial use of Vivants Professional Hair brand: by becoming a Vivants Professional Hair Distributor, you earn the right to use the company's brand, which greatly benefits your business relationships.
Social media campaign with the best beauty bloggers in the country: we know that bloggers today are followed by thousands of people who trust in their jobs and what they say. Therefore, Vivants Professional Hair is in constant partnerships with these bloggers for dissemination and demonstration of their products.
Social Media Campaigns with Celebrities: Everything a celebrity says generally has a very strong impact. If she recommends a certain product then it is because it is something of exceptional quality. And who does not want to wear what their celebrities wear?
Transfer of know-how in the distribution of professional cosmetics: with over 13 years of hard work Vivants Professional Hair has accumulated the know-how of the largest and best companies in the professional cosmetics segment. When you become a distributor of Vivants Professional Hair all this know-how is transferred to you enabling you to achieve the best results with our distribution.
Continuous follow-up with the manager of the distributor account: each distributor who enters Vivants Professional Hair has a Commercial Account Manager. It is he who will give you all the necessary support so that you can develop your activities in the best possible way and thus achieve the best results.
Training and technical and commercial support: Vivants Professional Hair has several training and support channels for its distributors, ranging from its Training Center in Belo Horizonte / Minas Gerais to online training formats. You can choose what is best for you.
Support for regional marketing actions: we have developed an annual agenda of meetings, trainings and workshops by regions in order to strengthen Vivants brand, support our team of distributors and prospect new potential customers.
Indication of costumers that contact the company: when a potential customer contacts our company, we immediately seek to identify which region he is located at and we activate the distributor responsible for the area to do the service, in other words, you can be assured that no customer can purchase our products unless it is exclusively through our distributors.
Development and support for events: we support those distributors who stand out and who on their own initiative develop events with the intention of promoting our products and our brand
Participation in product developments and new product releases: our distributors are constantly invited to participate in our product launches and to be part of our market research programs.
Media center on digital media: the distributor will have access to the content of the official Vivants Professional Hair fan page and use it for their own pages.
Exclusive relationship channel on the internet through the VIP area of our Institutional Website.
Here are some of the reasons for you to become a Vivants Professional Hair Distributor. But if you still have any questions or just want to get to know us better, then feel free to contact us through our channels of interaction. Vivants Hair family will be happy to receive your contact.
If you still do not know our informative materials, click on the links below and check everything else that Vivants Professional Hair has to offer you and your potential customers:
Hugs from Vivants Hair family.